Global Efforts
The Shionogi Group is advancing its global strategy by taking a pragmatic approach to its international business expansion in the United States, Asia, and Europe in order to deliver Shionogi's high-potential products to patients around the world.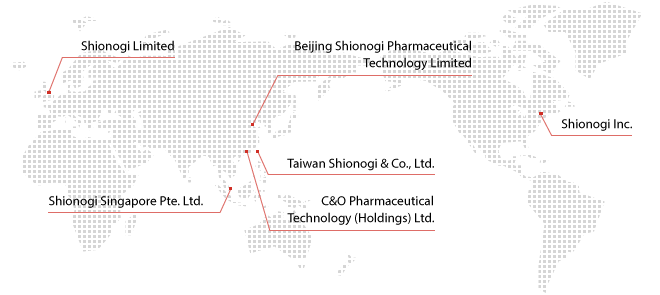 In the United States, which is the largest pharmaceutical market in the world, Shionogi Inc. is seeking to enrich and maximize the value of Shionogi's product portfolio through intensive licensing activities in addition to conducting its own development and commercialization. In 2013, Ospemifene (U.S. brand name: Osphena®), a treatment for moderate to severe dyspareunia, a symptom of vulvar and vaginal atrophy due to menopause, was launched as the Shionogi Group's first global drug. The entire Shionogi Group is working closely together to make this drug a major product in the women's health field, an area with a significant unmet medical need*1.
Shionogi Limited, our development center in Europe, plays an important role in accelerating the development of global products, including ospemifene, and in promoting the SHIONOGI Science Program, an industry-academic collaboration initiative focused on joint research. Shionogi is pursuing the expeditious launch of Shionogi products in the European market.
In Asia, through C&O Pharmaceutical Technology (Holdings) Limited (C&O), which joined the Shionogi Group in 2011, Shionogi plans to expand its business in the Chinese market, where the market growth is expected to continue to grow in the future. With deep know-how regarding the proper use of antibiotics accumulated from our extensive experience in Japan, the Group expects to increase the market share of its antibiotics and also to further expand its business in China by launching new products. In addition, Taiwan Shionogi & Co., Ltd., which is one of Shionogi's longtime overseas affiliates, is focused on the marketing of anti-infective drugs, including Flumarin and Finibax. In Singapore, Shionogi Singapore was newly established in April 2014 to establish a development and sales foothold and to thereby maximize the value of Shionogi's products in the ASEAN member states.
Shionogi considers the global expansion is essential for its medium- to long-term growth in business, and will continue to strengthen its development and sales footholds globally as well as its research foothold in Japan.
[*1] Unmet Medical Needs: Medical needs that are not addressed for reasons including lack of effective treatment.